David's House provides a place to stay for the families of very sick children while they are in or being treated at Dartmouth Hitchcock Medical Center.

David Cyr of Hartland died of leukemia in 1984 at age 5 and had spent lots of time at the hospital. He told his parents he wished he could bring other kids home with them to share their safe place. David collected coins and said he was saving for something special.

After he died, David's father searched through the house and found stashes of David's coins: $300.78! His parents took this and began a massive fund raising to build the first David's House, which opened in 1986. CHC was proud to participate in the 20th Anniversary Fund Drive - matching and then doubling David's initial gift!


CHC conducted a book drive to collect books for the Apalachicola Bay Charter School, supported for several years by RMS learning specialist Patti Dodds and her family during their April vacations. We were able to send down over one thousand books to be placed in a new library and the individual classrooms.

LOUISIANA: CHC HELPS CHILDREN AFFECTED BY HURRICANE KATRINA

CHC collected clothing, backpacks, and funds to support displaced families from New Orleans after the Katrina Hurricane. Our contact was a member of Hanover's Boyle family living in Baton Rouge who was working with others to help children integrate into the Baton Rouge schools.
ACTS is a local medical group that has worked in El Rosario for many years. They built a clinic, trained a nurse for year-round care, and send a medical team to El Rosario four times a year.
CONTACT: Dean Seibert, in the blue shirt, has been one of the strongest leaders.

CHC sent funds with ACTS medical volunteers to purchase supplies for the school children and soccer equipment. Stateline Sports of West Lebanon donated soccer shirts. Jody went down during her sabbatical and brought over a hundred school books purchased in Guatemala for the El Rosario school and the schools in surrounding villages.

CHC Sent Soccer Shirts Donated by Stateline Sports.
| | |
| --- | --- |
| | |
Hogar de Niños Buen Samaritano: Friends of The Good Samaritan Orphanage

All information comes from the website of the local foundation. We encourage you to visit and the website and will join us in supporting this inspiring work.

Friends of The Good Samaritan Orphanage

is a non-profit charity which supports this unique orphanage in Honduras.

CONTACT: Director Gayle Aspinwall, Hanover resident and family friend of CHC 2011 member, Tatiana, who had learned about the orphanage and its work with some of the most profoundly handicapped children in Honduras. We were honored to help this year.

Gayle Aspinwall
Gayle grew up in Honduras and spent her teenage years in San Pedro Sula. She was introduced to this orphanage on a visit to her mother in 2006 and was stunned by the incredible work of the nuns who run the home for many of the most severely challenged children in the country. She writes about her first experience:
What impressed me most was the smiles on the children's faces, they stirred and made every effort to get our attention. It was lunch time and children who could use their hands were helping the nuns feed those who couldn't. We walked through three large dormitories, greeting the children; then we went into an enclosed porch where children in wheelchairs sat at a table to eat. I was speechless when I first saw Josue who, unable to use his hands, was using his feet to spoon soup into his mouth. Not a drop was missed, and he smiled. This incident taught me how limited, we, the 'capable' can be and that creativity and empowerment go the distance. I was also struck by how blind the nuns and children were to their handicaps, they saw only persons sitting next to them.
Hogar de Niños Buen Samaritano is run by Sister Maria del Carmen Huezo Superiora. She and her staff of eleven sisters and novices have enriched the lives of boys and girls adopted into the children's home since 1989. Their guiding philosophy is the dignity of each person and the promotion of life: We cannot change the world, but with our experience we can influence our family life, our work, our community of giving to others. The children they adopt are those abandoned by parents who cannot care for them due to their handicaps; some reach the home via referrals from public hospitals; and some folks drop the children off at their gate. All of the children are received with love, care, respect, dignity and stimulation from all who live in the home. All funds raised support the children's daily needs, quality of life and a building expansion effort to increase the capacity of handicapped children and add abandoned elder women to the existing community of 70 boys and girls.
CHC AND THE FRIENDS OF THE GOOD SAMARITAN ORPHANAGE
THANK SOLMATE SOCKS!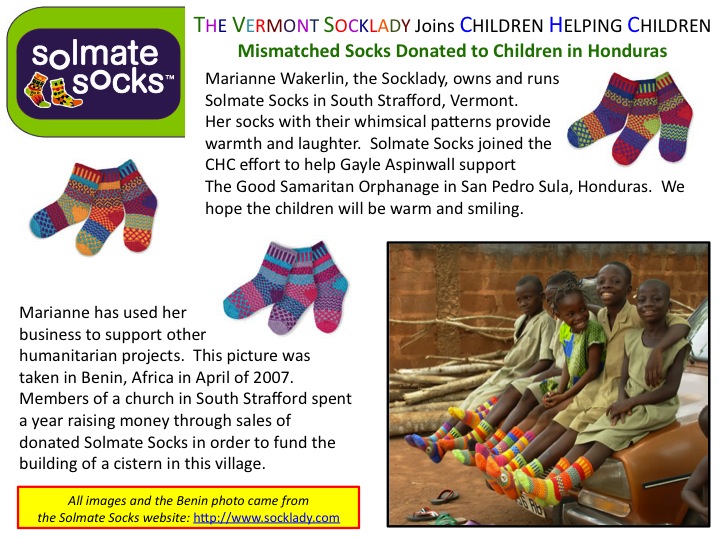 ANTIGUA, GUATEMALA
PROBIGUA ~ Proyecto Biblioteca de Guatemala

Rigoberto Zamora Charúc and his brother, Antonio, grew up in a small Mayan village and went to an elementary school without books. Both were lucky enough to continue their education and learned the power of education and reading. Rigoberto created an excellent, not-for-profit Spanish language school, Probigua, so that he could use the profits to build libraries in small villages like their own. CHC got involved and Rigoberto selected a school for us to support. During her sabbatical, Jody traveled to Antigua and hand delivered CHC funds for the library. She also helped organize the books in the Probigua mobile library, the largest in Central America, which travels to schools each day and parks in the square for afterschool access each afternoon. Rigoberto also helped her use CHC funds to purchase over a hundred books for the students in El Rosario, Honduras - her next stop.

Rigoberto Zamora Charúc

SAN RICARDO: Rigoberto's brother Antonio works at Probigua, but he has also made a commitment to projects of his own. He discovered the small village of San Ricardo and asked for CHC support to help villagers build a new kitchen and clean water supply at the school. He visited the Upper Valley through connections with the Finers and is shown here with CHC students, preparing for a fundraising dinner at the school.

BYRNE FOUNDATION HELP: The next year, Richmond Principal Susan Finer and Jody received a generous grant from the Byrne Foundation to support Antonio's projects. In addition to the new kitchen, the funds were used to pay for materials to build a new kindergarten classroom and new latrines for the school.




LITERACY GIFTS

CHC raised funds for Jody and RMS Spanish teacher, Erin Madory, to take down and purchase supplies and books for the children: Each child received a notebook, pencil, eraser, pencil sharpener, and ruler. Erin and Jody also delivered the building funds from the Byrne Foundation Grant. What an honor!

CHIMALTENANGO PEDIATRIA

Ricardo also asked us to help him support a new program at the National Hospital in Climaltenango. An inspiring woman, Emma de Mata, had set up a pediatric program, supporting very poor mothers as well as caring for their children in the hospital. The Byrne Foundation grant supported Emma's work along with the building projects in San Ricardo.
CONTACT: EMILY ULRICH


COCHABAMBA, BOLIVIA

Mis Huelitas
Nursery & Day Care

~

CHC Helps Staff & Families
Build a Fence

Emily Ulrich (RMS '02, Hanover High '06 and Dartmouth '11) volunteered at Mis Huelitas Day Care & Nursery in a very poor section of Cocabamba. She asked CHC if we could help them build a fence around their yard: if we paid for the materials, the families and staff would build it.The fence now allows the children to play outside safely, and there is room for a communal vegetable garden as well.
MIS HUELLITAS THANKS CHC!