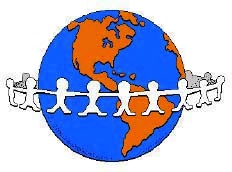 CHILDRENHELPING CHILDREN IN AFRICA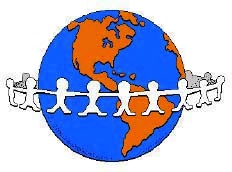 CHC Supports Projects for Children and Families Around the World
that Promote Health, Literacy, and Hope of a Better Life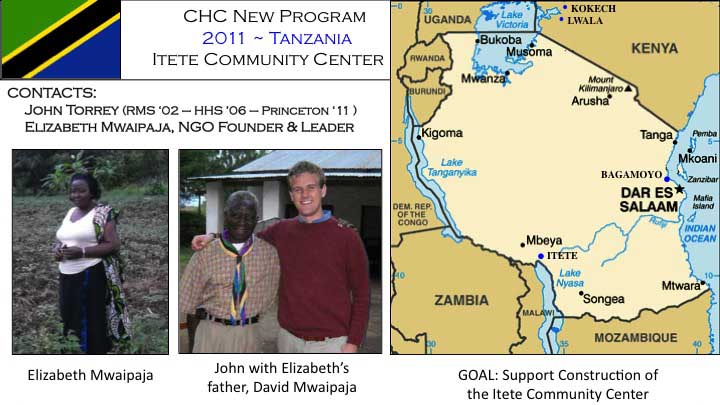 Elizabeth Mwaipaja founded her NGO, Nasua Vijana Tanzania (Freeing Youth in Tanzania) to provide health education and economic empowerment for youth in Bagamoyo on the coast of Tanzania where she has dedicated herself to breaking the tragic cycle of HIV/AIDS by educating and empowering girls and young women. She recently returned to her village with a dream: to build Itete's own Nasua Vijana Tanzania Community Center. Elizabeth's plan is to finance the center's operation through sustainable income-generating activities as well as donations from the community of money, goods, and time. Activities will include farming in the fields behind the Center, craft-making by those learning marketable skills at the Center, and selling food and crafts. CHC was asked to contribute funds for construction costs. Elizabeth owns the farmland on which she will build the community center: it will consist of a large room for skill training, lectures, and community meetings; an administrative office, an income-generating storefront, and an outhouse. She estimated that it will cost about $7,000 to build. CHC made a pledge to raise at least half of that this year.
Elizabeth already has a network of over forty committed volunteers in Itete who have worked with her in the past. John Torrey took these pictures, noting that they demonstrate the generosity and spirit of Itete's community. These women have brought food and clothing for sick people in the Itete hospital.

CHC 2011 & MEMBERS OF THE TORREY FAMILY WERE ABLE TO SEND THE FULL $7,000 TO ELIZABETH TO BEGIN CONSTRUCTION OF THE CENTER.
CHC IN KENYA: LWALA & KOKECH






CHC SUPPORTS SUBSTANTIAL PROGRAMS IN TWO KENYAN VILLAGES

KENYA

LWALA, KENYA
2006-2011
CHC & Local Foundation:
Lwala Community Alliance

• High School Scholarships
• Solar Electricity for Clinic - 3 Sets
• Clean Water Supply for Village
• Malaria Prevention Bednets
• 4 Latrines for Elementary School




KOKECH, KENYA
2009 & 2010 - Update 2011
CHC & Local Foundation: I -KODI

• Construction Funds for Library
• Funds for Tables, Chairs, and Shelves
• Donation of Books
• Education & Support for Orphans




2006-2011 CHC IN LWALA, KENYA ~ 2006-2012





RMS CONTACTS
Fred Ochieng' & Caitlin Reiner

FIRST CHC PROJECT
Daniel Odhiamba Ogada

FINAL CHC PROJECT
Peter Ogal


High School Scholarship
2006-2009


High School Scholarship
2010-2012

CLINIC CONSTRUCTION: BEFORE CHC INVOLVEMENT

Milton Ochieng'

(Dartmouth '04)

and Fred Ochieng

(Dartmouth '05),

worked tirelessly with friends and supporters to raise money in order to build a medical clinic in their home village of Lwala. Their struggles and final success are documented in Barry Simmons's moving film,

Sons of Lwala.

Milton Ochieng' stands in front of the finished building. It would take months before sufficient funds were secured to be able to open and run the clinic, but it finally happened on April 2nd, 2007.

THE OCHIENG' MEMORIAL CLINIC OPENS!

The Ochieng' Memorial Clinic now serves the 1500 residents of Lwala and over 3,000 from nearby villages. This has become a model of community action as workers at the clinic and in the village reach out to help others.

ANOTHER CONTACT: DR. BILL YOUNG and FAMILY
Hanover's Dr. Bill Young and his family have supported Milton and Fred ever since they came to the United States, especially through the giant task of raising funds to build the clinic and bring medicine to their village. They have now both earned medical degrees from Vanderbilt. Bill's daughter, Lindsay, with a degree in water engineering, came to CHC to request funds for the materials to build a community well. We were thrilled to do this, and Lindsay spent the summer overseeing the construction. These pictures show the process, and the well provided the first clean, safe water for the village - a huge contribution to good health.

HONORED
IN LWALA

* * *

CHILDREN
HELPING
CHILDREN
HANOVER
USA

The Young family sent us a picture of this
wonderful message, scratched in the concrete, right behind the woman's head.

WOW!
2009-2010 CHC IN KOKECH, KENYA

NEW FOR CHC in 2009!
Konditi Primary School

Daniel Ochiel is from the tiny village of Kokech, Kenya and a graduate of the Konditi Primary School. He earned his PhD in virology and immunology at Dartmouth Medical School in late 2009. He wanted badly to help improve educational opportunities for the people of his village, and did not know where to find support for his dreams. He teamed up with Ben Schwartz (Dartmouth '06) who had started World Partners in Education to help raise money to improve education in Africa. Together, Daniel and Ben gathered funds to build two new classrooms, a village well, and provide the children with desks and school supplies.

Later on, Daniel would form his own foundation, Konditi Development Initiative International (I-KODI). Daniel's website shows a multitude of ongoing projects. CHC got excited about two projects: helping the villagers build a school and community library and starting a fund to help orphans in the village attend and stay in school.

Daniel introduced the 2009 CHC group to his village and the children through his pictures, inspiring us all. Daniel and Ben traveled to Kokech to deliver WPE funds for their multiple projects.The school children proudly display new backpacks, filled with school supplies.

We also saw pictures of the bore hole well for the village, with materials paid for by Ben's foundation but the work performed by the village - just like the situation in Lwala where CHC paid for materials. Helping people help themselves changes everyone involved.
LIBRARY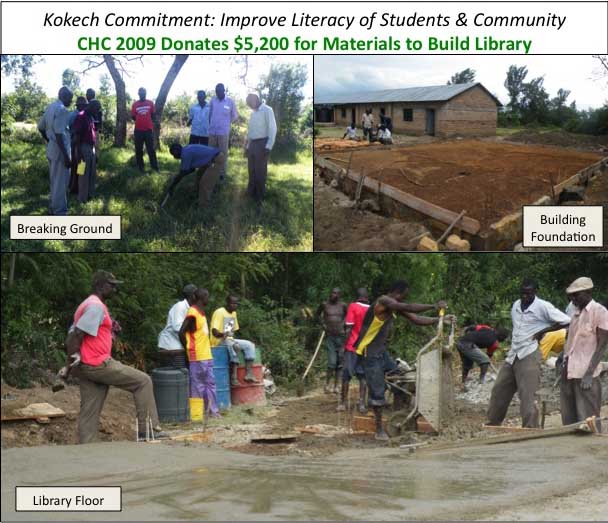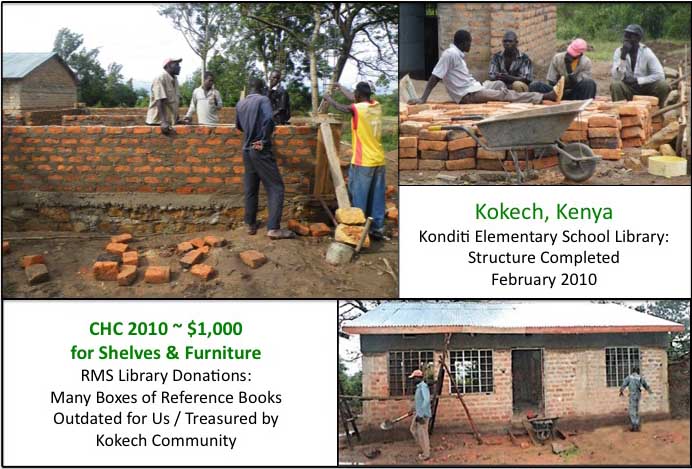 ORPHAN FUND
Daniel Ochiel returns to Kokech to help celebrate the dedication,
ribbon cutting, and opening of the library, and especially to watch the children read in the space that realized his dreams.
MAMA REGINA AROMBE MEMORIAL LIBRARY
---
MARCH 10, 2011
THE CHILDREN OF KONDITI ELEMENTARY SCHOOL

DIGNITARIES FROM THE KENYAN EDUCATION DEPARTMENT JOIN LOCAL EDUCATORS.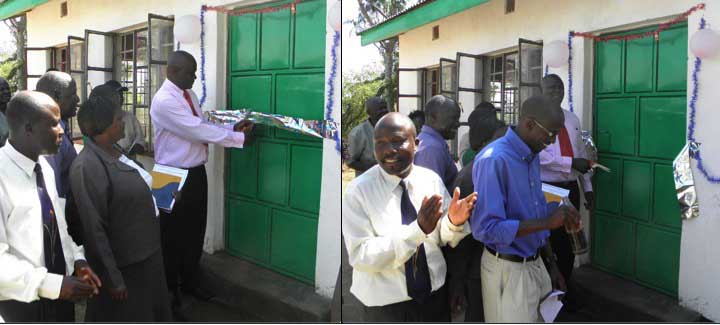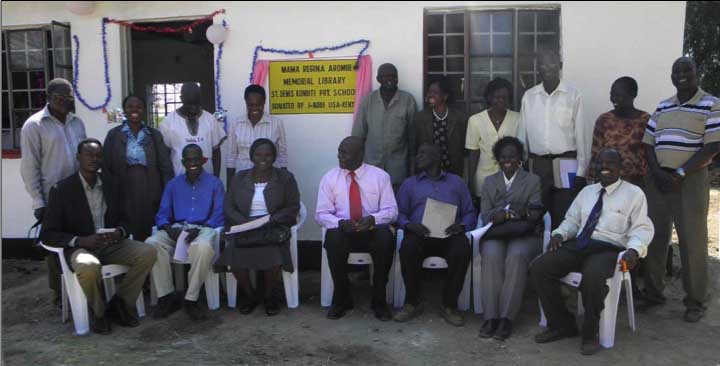 DANIEL SEES THE FINAL RESULTS OF ALL HIS HARD WORK ~ AND OURS!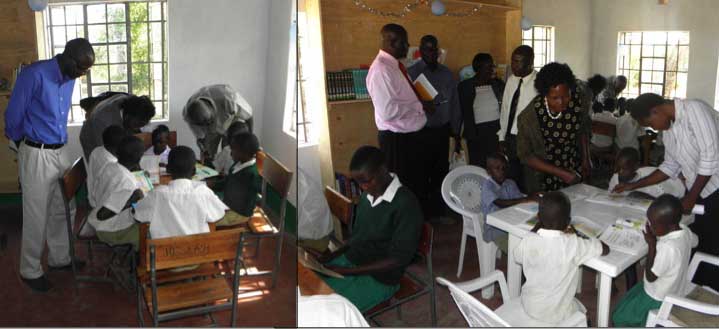 DANIEL SMILES AT THE CHILDREN READING NEW BOOKS ON THE FIRST DAY.

~

CHILDREN HELPING CHILDREN AND I-KODI VOLUNTEERS HELPED DANIEL OCHIEL TURN HIS DREAM OF HELPING HIS COMMUNITY BECOME A REALITY: GREATER ACCESS TO BOOKS AND A BROADER COMMITMENT TO LITERACY IS
MARKED AND APPLAUDED BY ALL.

WOW!
Selamta Family Project
Human Capital Foundation

The Selamta Family Project works to provide safe family homes for children of Addis Ababa and surrounding areas who have been orphaned or abandoned by desperate poverty and disease, especially AIDS, within their families. To date, seven family homes have been completed: each has up to eight children with a mother and assistant; siblings always stay together; and all children of school age attend an excellent nearby school. Jody Horan and CHC member Bethlehem Foster visited Selamta in 2008, bringing CHC funds to purchase books for all of the houses and spending quality time with the Selamta children and their mothers.
CHC HELPS ETHIOPIAN ORPHANS AT SELAMTA
| | | |
| --- | --- | --- |
| | | Carol Foster: Founder and Director |
| | | |
Jody's 2000-2001 service sabbatical ended in South Africa. She volunteered at the Port Elizabeth SOS Children's Village and the Papenkuil Primary School. Her work at the Children's Village led to a later CHC commitment to supporting SOS work, especially in crisis situations. SOS volunteers were the first group to respond to the plight of orphans after the tsunami hit Indian Ocean coastlines; they have set up food stations in times of famine in places like Ethiopia; and they run medical clinics in many places as well. Most recently, they responded immediately after the earthquake in Haiti to identify children and families in need of basic survival support and later to expand their existing villages to take in children with no relatives. See CHC 2010.
SOS CHILDREN'S VILLAGES

SOS Children's Villages is a world-wide organization that builds villages of up to 15 homes, with 8 children and a mother in each home. This gives orphans a permanent home until they are ready to live on their own. Siblings are always kept together within a new SOS family. The children attend public schools, and area children are invited to attend the SOS kindergartens and access other support services.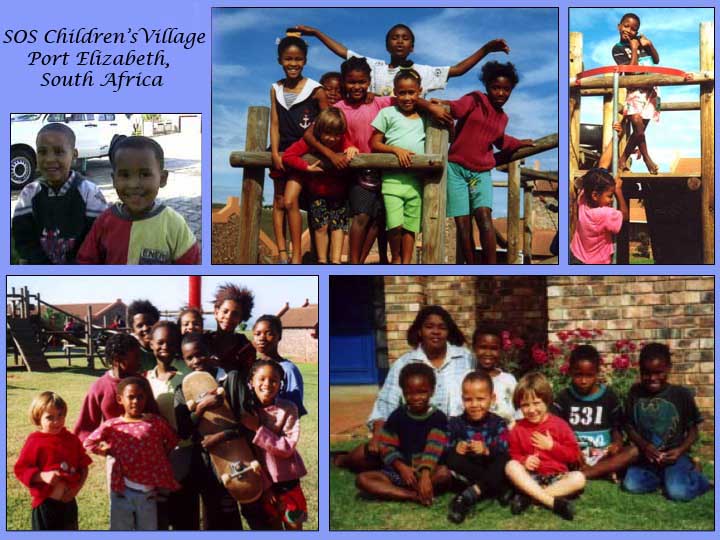 BUILDING A LIBRARY IN PORT ELIZABETH SCHOOL
PAPENKUIL PRIMARY SCHOOL

Jody also volunteered every school day at the Papenkuil Primary School. CHC funds were used to purchase some new books for the school and she worked with teachers in different classrooms, but the biggest accomplishment was working with student volunteers to transform a small, dusty room, cluttered with boxes of books, into an organized and usable library for the whole school.