IN THEIR OWN WORDS: We have been married since 1972 and have four wonderful grown children and five grandsons. Our son Joshua works steadily on the farm alongside Dave to keep the work manageable. We began raising sheep and a few beef cattle in 1974 on a much smaller farm in West Windsor, Vermont. We had no background in farming and had much to learn about the land, machines, and animals. We sold hay and freezer beef locally, learned to build good fences (and be good neighbors), to plow and to seed, and to strengthen the land and expand our herd and flock. We were drawn to polled Herefords for their temperament and natural compatibility with our climate and available grasses, and we bought our first registered animal in 1984: a wonderful brood cow who lived to be sixteen. From that simple beginning, we made a long-range commitment to build an all-registered cow/calf operation, annually improving bloodlines through carefully selected sires in order to produce high quality heifers and a few exceptional young bulls.

In 1987, we bought our current 180-acre farm in Norwich, Vermont, and by 1994, our herd was fully registered. We converted an old dairy barn to house our cows so they could calve in January and February. With protection from our harsh winters, the calves could nurse for three or four months before taking full advantage of the flush of spring pasture along with their mothers. Our calves routinely reach a weaning weight in the fall of 650-750 pounds.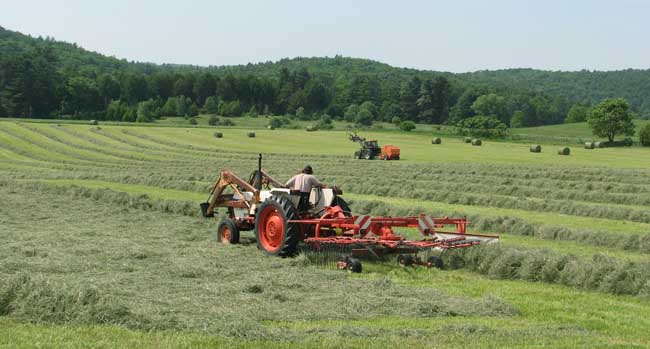 With help from our younger sons and many of their friends, we worked every summer to make thousands and thousands of bales of hay for the animals and to sell for extra income. We used to make all square bales, but adding round-bale technology allows us greater flexibility, especially in rainy summers, and makes winter feeding easier. In 2007, our wonderful old barn was burned down, robbing us of our hay storage facility. We built a new, much simpler barn which is far better suited to our beef herd, but we now almost exclusively make wrapped bales.
(see Barn Building)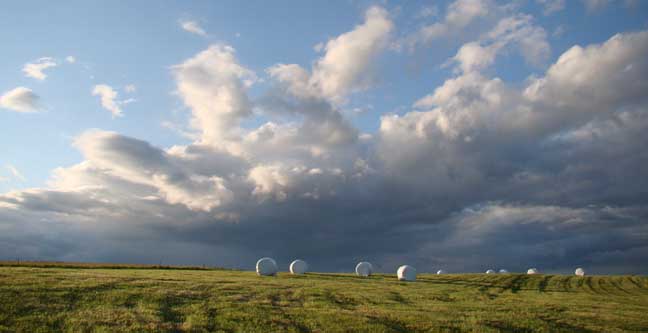 We raise 30-35 calves each year. About half of our heifers and cows are bred artificially, with careful attention to raising EPD's and strengthening our stock; the rest are turned out with our select herd bulls. We do not have the time, money, or temperament to show our cattle; nor do we flush or transplant. But we do believe that we produce some of the best calves in the area. We handle all our cattle, including our calves while they are in and around the barn for several months after calving, so they also can make exceptional 4-H animals for young farmers or ranchers; a calm temperament is a goal as well as high production numbers. Many local breeders have discovered the quality of our animals, and many of our bulls have "worked" around the state either through sale or rental for a few months at a time. (See 2015 Bulls)